5 Baby Nursery Decor Ideas
With the incredible variety of decorating options available in a child's room, it can be difficult to make a final decision on how to furnish your child's room. The most effective way to "narrow" the list of decorating options for the children's room is to consider your own style preferences and personal interests. Think about the things you enjoyed and remember in your childhood, or look at today's styles to find something new and inspiring. But before you make any decisions, always remember that nursery furniture should be pleasing and functional for both baby and parents.
The goal of decorating any baby's room is to create a special place for you and your baby, as this is where you spend most of your time and a lot of bonding takes place in the baby's room. Therefore, the style of decoration of the baby's room you choose should give a cozy and pleasant feeling. To help you choose your nursery's décor, here are five points to stimulate your creativity.
1. Start with the cot
Since this is the central point of the room, first choose your crib design and then define the style of the room for you. Whether you choose a modern, classic, Victorian, or whimsical crib style, the design will determine the rest of your child's room interior. A changing table, chest of drawers and other furniture should be chosen to match the style.
2. Add color
However, to stimulate your baby's eyes and brain, you should include strong colors and patterns in your baby's room décor. Use primary colors and their shades for a complimentary and contrasting color scheme. Also, add a colorful design to the blanket to give it an interesting look.
3. Add a character
Adding colorful characters brings the decoration of a child's room to life. You can use a stencil to color the theme or characters from a storybook, put a sticker or mural on the wall, or hang a poster or tapestry. Some popular characters come from nursery rhymes, books, or TV shows. They include classics such as Raggedy Ann and Andy, Noah's Ark, and Mother Goose.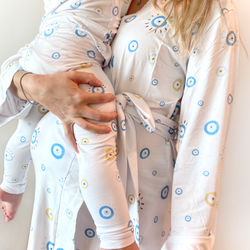 4. Add color
With accessories, you can enhance the look of your children's room décor. There are many unique designs for decorating children's rooms, such as photo frames, decorative baskets, shelves, and toy boxes.
5. Integrate the essentials
You'll notice that decorative items for the nursery change as your baby progresses from infancy to early school age. During the newborn period, the room should be equipped with the most important furniture for parents, such as a glider, an ottoman, or a rocking chair, which are ideal comfort items for feeding and rocking. As your baby grows, you can remove this furniture and replace it with age-appropriate items.
When you furnish your child's room, you create an area for care and growth. The special accents you add will foster an environment where your baby will learn new and magical things that stimulate the senses and create a happy and secure child.