Ready to begin designing your baby's nursery, but not sure where to start? We asked a few professional designers for their advice on creating the perfect nursery. Here are their top 10 tips to help motivate and inspire you:
Be Practical
If available, choose a room for the nursery that is near your bedroom. This will make it easier to get to your baby in the middle of the night. Make sure your baby's room has good air flow. If the windows in the nursery produce a lot of natural light, place blackout curtains, or shades, on the windows. This will not only keep the room cool, it will help your baby rest easier.
Be Consistent
Is the design of your home conventional, modern, or a bit of both? When figuring out the style of your baby's room, keep in mind that it's a good idea to have it match the rest of your home's style. This way, it will all flow nicely, and you'll be less likely to grow tired of it.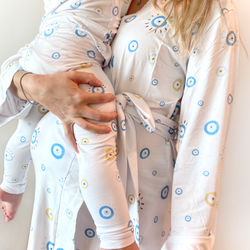 Create a Mood Board
Look online and in magazines for nursery design ideas and create a mood board! A mood board can be helpful when selecting your colors, picking out furniture, and getting inspiration when you need it most!
Keep it Simple
With all of the beautiful nursery furniture and décor that's available, it's easy to get overwhelmed. Always remember to keep things simple when it comes to designing your baby's nursery. Choose a few, simple furnishings and decorations that you love. This way, the room won't get too cluttered, and you won't get frustrated decorating it!
Choose Soft, Peaceful Colors
When choosing the color scheme for your baby's nursery, think calming tones. When your baby grows up, they'll be able to choose what color they wish to paint their room, but, for now, choose colors that you love! You'll be spending a lot of time in your nursery with your little one and it's important that you enjoy the space.
Pick Versatile Décor
Consider how long the décor that you choose will last before your baby outgrows it. When picking out décor, try and pick things that will last a long time. Wall stickers are an inexpensive and simple way to decorate your nursery; if you grow tired of them, you can easily remove them!
Think of Safety
Not only do you want your crib to be beautiful, you want it to be safe! Create a secure area for your crib by placing it away from the windows, heating units, lights, and any cables. Try and keep any furniture that your baby could climb on away from the crib.
Get the Essentials First
It may seem strange, but it's a great idea to get the furniture for your nursery before you start decorating. It's easier and will save you money if you match paint, materials, and decorations to the furniture in the nursery. The furniture will likely be the most expensive pieces you buy and will be harder to replace than any décor.
Plan Ahead
A difficult aspect of designing your nursery is deciding where to place everything. It's best to plan where everything will go before you buy anything; you want to make sure the space feels open and inviting. Keep in mind how big the room is, and buy items that won't make your space feel too small.
Think Outside the Box
Just because a piece of furniture or certain décor item isn't nursery-specific, doesn't mean that you can't find a great use for it. That old desk that's collecting dust in your garage? Convert it into a changing table! There are endless ways to use the things that you have laying around in your house for your nursery.