A beautiful nursery, that you love, doesn't need to break the bank. With a bit of knowledge, and creativity, you can create a lovely, affordable nursery! Unsure of where to start? Take a look at these 7 money-saving hacks to create your dream nursery:
Get a Convertible Crib
A convertible crib is a crib that can change into a toddler bed. They might be more expensive than regular cribs, but they're well worth the money. When your little one is ready, you can turn the crib into a safe, "big kid" bed. This way, you won't have to go through the hassle of buying a new bed and getting rid of the crib. While some convertible cribs include all of the tools that you need to convert it, some require you to purchase them separately. If you choose a convertible crib that sells the tools separately, make sure to buy them right away! You'll thank yourself later.
Pick Simple Bedding
Crib bedding is not only expensive, it's potentially dangerous to your little one. Regardless of their appeal, crib coverings, blankets, and cushions are all things that could suffocate your baby. By steering clear of these items, you will save money, and keep your baby safe. According to the American Academy of Pediatrics, all an infant requires is a well-fitting mattress, a water-proof mattress cover, and a fitted sheet. If you're worried about cold weather, sleep sacks are a safe and effective way to keep your little one warm while they sleep.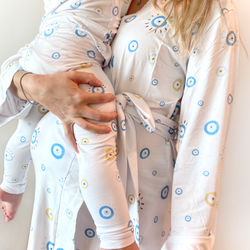 Ditch the Changing Table
While having a place to change dirty diapers is essential, a changing table is not. A lot of babies sleep in their parents' room for their first few months, which means a changing table won't get much use. They can be bulky, and cost upwards of $200. When your baby starts to roll around, you might feel more comfortable changing them on the floor, where it's safer. You'll save a lot of money by ditching the changing table. There are many affordable alternatives: folding changing tables, portable changing stations, changing baskets, and much more.
Be Resourceful
Before you start buying anything, think about what you have, and what you can get for cheap. A fresh coat of paint and some custom-made drawers can spruce up an old cabinet that you have, making it an excellent addition to the nursery. If you don't have any extra furniture, keep an open mind and look for some gently used pieces. There are many wonderful, slightly used items that you can get at thrift stores or online. Properly disinfect anything you buy, and you'll be good to go! By opting to get certain items second hand, you will have more money to spend on other things for the nursery.
Be Creative with Paint
Paint is an easy and affordable way to transform your nursery. There are many different ways you can use paint to spruce up your baby's room! Paint the ceiling a calming color or paint a mural on one of the walls. Give the space a pop of color by painting a shelf or cabinet!
Get Crafty
When it comes to buying toys and décor, things can add up quickly. Luckily, with a little bit of craftiness, you can make your own! Utilize amazing websites, like Pinterest, to find things that you love. There are so many amazing DIY projects that you can work on to make your own décor for your nursery. By making things yourself, you will not only save money, you'll be proud of what you can do on your own. This is a fun way to make your nursery unique!
Keep it Simple
When it comes to nurseries, sometimes things can get a bit hectic. It can feel like the room is overflowing with toys, books, and clothes. This is why it's best to keep it simple in your little one's nursery. It's important to have all of the necessities, but other than that, don't overdo it. Get a few simple items that you love. Not only will this save you money, it will allow you some peace of mind when spending time in the nursery; it will feel a lot less cluttered!