Wondering what colors to pick for your nursery? While your baby won't be able to identify colors right way, they certainly will be influenced by them. Many studies have shown that colors have the ability to significantly affect us. Take a look below for a quick review of some colors and how they might affect your baby!
Red
Passion, Excitement, Emotional
Red is a strong color that creates interest and excitement. Keep in mind that it's best to paint only one wall red if that's the color you choose. Red is one of the most popular colors and is a great choice for your nursery!
Orange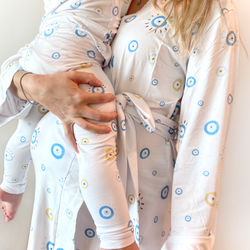 Warm, Comforting, Cozy
Orange is an incredibly cozy color. It creates an inviting environment that inspires conversation. Use darker oranges for a cozy ambiance and brilliant oranges for a modern touch.
Yellow
Lively, Energetic, Cheerful
Refined yellow, like a legal pad, promotes focus and idea generation. Yellow is a warm and energetic color but use it carefully. Bright and excessive yellow can be overwhelming for an infant.
Blue
Healing, Subtle
Blue is a soothing color that boosts efficiency. However, blue shouldn't be used around food. If your little one is a picky eater, avoid using blue plates. In your nursery, use cozy and intense blues. Try and stay away from navy and dark shades.
Purple
Dignified, Mysterious, Luxurious
Purple is a color that has long been associated with royalty and nobility. Rich, deep purples feel luxurious, and pastel purples, like lavender, are relaxing and peaceful. Purple is uncommon in nature, making it one of the most abnormal shades!
White
Clean, Pure, Innocent
White is a wonderful and angelic color. Always keep in mind that white is extremely susceptible to stains from your little one! If you choose to paint the walls of your nursery white, make sure to sprinkle little pops of color throughout the nursery.
Pink
Romantic, Loving, Feminine
It's no coincidence that most little girls love pink! It's the universal shade of femininity. Pink is a very relaxing color, especially to children that are prone to frequent tantrums.
Gray
Introspective, Intuitive, Emotional
Gray is a color that makes you think. Many poets and authors have been known to travel to places with very rainy climates to work on their poetry and books. If you plan on using gray in your nursery, try picking a cozy shade and mix in some fun, bright colors to maintain a cheerful space!
Brown
Earthy, Grounded
Brown is the natural shade of our planet, which makes it a wonderful option for a nursery. Choose a dark, delicious, chocolatey brown or a light beige. Be careful when using brown; certain shades tend to look a bit, well, poopy!
Black
Authoritative, Powerful
Black is a beautiful, powerful color. If you choose black tones, make sure that you have large windows in your nursery that provide great natural light. This natural light will allow the black to stand out wonderfully, without making the room too dark.