Your baby will be here soon, and, most likely, you're beyond excited! It can be difficult to know exactly what you need to buy before your little one arrives. Don't panic! Here is a list of some of the basics:
Bedding
When it comes to bedding for the crib, it's pretty straight forward. You'll need a mattress, waterproof mattress cover, and a fitted sheet. Keep the crib simple; having too much in the crib could potentially suffocate your little one. It's also important to buy a brand-new, firm, well-fitting mattress . Whether you use a crib or bassinet, make sure it's clean before your baby uses it..
Changing Pad
Whether you utilize a changing table or go a different route, having a changing pad is crucial. There are many different styles to choose from and many have belts attached to them to prevent your little one from rolling out. They are portable, meaning you can bring it from the nursery, into the living room, if needed. When picking out a changing pad, make sure it's equipped with waterproof material; this will make cleaning up any messes easy!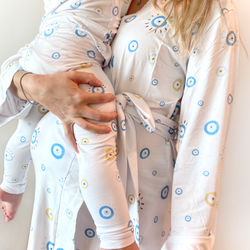 Storage Space
A good-sized cabinet will provide adequate storage for a lot of your baby's clothes. Try and dedicate a shelf specifically for clothes, and keep it organized! Cabinets are also great for storing books and toys. Your little one will accumulate a lot of stuff when they're born, and you'll need places to put things! A few things you can do to increase the storage space in your nursery is to mount a few shelves and get an ottoman that has hidden storage.
Thermostat
It's important that your baby never gets too hot or too cold; when they get too warm, their risk of SIDS increases. A thermostat is a great way to monitor the temperature in the room, making sure your baby is safe
Outlet Plug Covers
Make sure you're ready for when your baby becomes mobile! Purchase a pack of outlet plug covers for every room in your house. These are easy to find online and are an inexpensive way to keep your little one safe.
Sturdy Furniture
Double check that all of the furniture in your nursery is secure; you don't want any risk of something falling on your little one. Once they're able, they'll start climbing on anything they can! By securing all furniture, you won't worry (as much) when they start exploring.
Baby Monitor
Baby monitors aren't necessary, but they will make it easier to keep an eye on your little one when you aren't in their nursery with them. When they are napping, you can easily check the baby monitor to see if they are awake. Baby monitors allow you to have more peace of mind when you are away from your baby; you can quickly look to see if they're doing okay.
 Nightlight
A soft, simple nightlight can make evening feeds easier, and prevent you from stepping on anything laying on the floor. When your baby gets older, a nightlight can help comfort them; the dark will seem a little less scary when they have a nightlight in their room!