Designing a nursery for one baby can be frustrating enough, let alone two. You might be overwhelmed trying to sort out your littles ones' nursery. Never fear. Planning the nursery for your twins can be an enjoyable process with a little help. Here are a few tips to help make the process easy:
Less is More
You might think that having twins means that you need double the stuff, but, regarding the nursery, that doesn't need to be the case. Having two cribs is essential, but there is no need to get two of everything. For same-sex twins, the majority of the clothes are the same, so it's best to have one wardrobe for the area. For opposite-sex twins, simply divide the wardrobe, or get two smaller ones. A large, spacious changing table will work perfectly for your twins.
Consistency is Key
It's important that your twins are able to have their own identities. That being said, when decorating the nursery, try and pick items that will allow your twins to have their own styles', but that go nicely together. If you have opposite-sex twins, selecting a neutral base shade will make it easier when decorating. Later on, you can incorporate different accent shades that the twins prefer.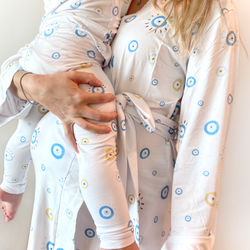 Seating is Vital
When having twins, it's an all-hands-on-deck scenario. The more space you have for your family and friends, the better. An additional chair, or perhaps an extra-wide glider, will be an excellent feature for your twins' nursery. This will allow any company you have over to be comfortable while hanging out with your little ones.