Whether you've just learned that you're expecting a baby boy, (congratulations!) or you're entering your third trimester, your mind is most likely swirling with nursery ideas! You and your little guy will spend a lot of time in this room so creating a space you will both enjoy is important. If you're searching for some inspiration, read these 11 baby boy nursery ideas:
Name/Initials
If you've already picked out a name for your little guy, using his name/initials to decorate his room is an easy way to make the nursery more personal.  There are many different ways you can incorporate this into his nursery! Consider painting his name/initials on one of the walls or purchasing wall decals in a fun font.
Starry Night
If feel yourself being drawn to deep, dark blues and love looking up at the night sky, a starry night themed nursery might be the perfect choice for you. To achieve this, repaint the ceiling a deep blue, and either paint your own stars on the ceiling, or invest in some glow-in-the-dark stars that can be stuck on the ceiling. This will provide a great source of entertainment for your little guy for many years!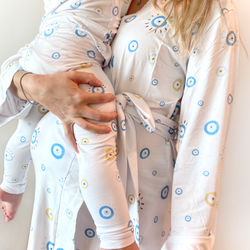 Travel & Adventure
Is traveling a passion of yours that you want to pass down to your baby boy? Go with a travel & adventure themed nursery! There are so many fun ways to incorporate this style into your little guy's nursery. Compasses, world maps & globes, and airplanes are a few great ways to integrate travel & adventure into his nursery.
Black & White
A black & white themed nursery might sound dull, but it doesn't need to be that way! This style can allow your little guy's room to look open and modern. Find a cozy black & white rug that you love and add it to his nursery! Not only will this rug provide additional safety when your little guy starts crawling, it will look amazing. Another great way to integrate black & white into his room is to repaint one of the walls with chalkboard paint; this will provide entertainment for many years to come!
Mountains
Do you love the mountains and want your baby boy to love them too? Consider a mountain themed nursery for your little guy! There are so many different ways to incorporate some mountains into his room: frame some pictures of mountains and hang them up, paint mountains on of the walls in his room, add wall decals of mountains, the list goes on and on!
Safari
It's always fun to decorate a nursery with animals, especially when said animals are lions, giraffes, elephants and zebras! A safari style nursery is the perfect way to design your baby boy's nursery. When creating this style in his room, think tan colors paired with different African animal prints: the walls painted tan and a zebra print rug.