Are you beginning to prepare the nursery for your little one's arrival? If you're feeling overwhelmed with which nursery theme to go with, consider one of these modern styles below:
Modern & Minimalist
A modern & minimalist nursery is a great way to create a clean, simple room that you'll love spending time in with your baby. Simplistic white walls, paired with quaint furnishings is a great way to give your little one's nursery a modern & simplistic feel. This nursery theme is also a great way to save some money when decorating; minimalism means buying less things!
Modern Boho
Are you in love with a modern boho style? Why not incorporate it into your baby's nursery! You can have so much fun with this nursery theme. Find some cute wicker baskets you love and use them as storage. Keep any décor in the room simple; a few green, lush house plants and macramé hangings are all great ways to incorporate this style into the nursery.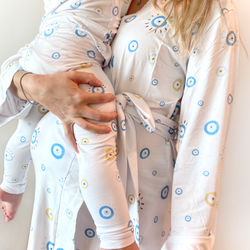 White, Black & Gold
You can't go wrong when it comes to pairing white, black & gold. These colors paired together will create an exceptionally modern feel in any space. There are many beautiful white and gold cribs available for purchase. Search for a black & white striped rug and add it to the room! The possibilities are endless when it comes to incorporating these wonderful colors into your baby's nursery.
Modern Mountains
A modern, mountain range themed nursery is a great, gender-neutral choice for a nursery! If you love to paint, consider painting a mural of mountains on one wall in the nursery. If painting isn't really your thing, there are many wall decals of mountains available to buy. You could also find some stunning pictures of mountains, frame them, and hang them up on the walls! There are so many amazing ways to integrate mountains into your little one's room.
Mid-century Modern
Similar to modern boho, a mid-century modern themed nursery is a great choice for your baby's nursery. A great way to incorporate this theme into the room is to find a gorgeous, mid-century rug and place it in the room!