Deciding what color to paint your baby's nursery, and how to decorate it, is a fun way to get ready for your little one's arrival! While you're preparing the nursery, you'll want to keep safety in mind. This five-step overview will help you make sure your nursery is safe:
Outlets and Alarm Systems 
Today, most modern electrical outlets have safety features that will protect your baby. Outlet covers can reduce the functionality of the outlets, so it's best to avoid purchasing them. If you have older outlets though, outlet covers are a great option. Any cables you have need to be placed out of reach, and away from any heat sources. If you don't already have them, mount smoke detectors on each floor of your home. If you have a gas-fired heating system, or a gas stove, invest in carbon monoxide detectors. Check all alarm systems in your house monthly to make sure they're functioning properly and change all batteries each year.
Doors and Windows
If you use older blinds, or curtains, in your nursery, make sure to keep all of the strings out of your little one's reach. It's important that any windows don't open more than 12.5 centimeters. While designing your nursery, remember to keep any furniture away from the windows. Once your little one is mobile, they might get their little fingers caught in the door. Using a door blocker or door stopper is a great way to protect their fingers.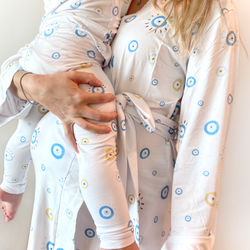 Old Paint
If your home was built prior to the mid-1960s, and still has the original paint on the walls, it's likely to contain lead. If the paint is in excellent condition, it can easily be secured with a top coat of new paint. The paint available in stores nowadays is lead-free. If the original paint of the room is peeling off of the walls, you will need to get rid of it. This is a job that you'll want to hire a professional to do when you're out of the house.
Furniture
It's best to use sturdy furniture in your nursery so that your little can be free to safely climb. If there are any furnishings that you feel might be a possible risk, try and secure them. It's also a good idea to put guard pillows on any sharp furniture edges. Place safety locks on any cabinets that you don't want your baby getting into. Try and get into the habit of always keeping cabinets shut; this will prevent little ones from bumping their heads or getting fingers caught. You'll always need to stay with your baby when they're on the changing table, so keep this in mind when designing the nursery. Keep baby wipes, diapers, and any other necessities in your reach, but out of theirs. For added security, place the changing table against a wall.
Resting Safely
Make that sure your crib is deep enough and has bars that are the proper distance apart; the space in between each bar shouldn't be wider than 6.5 centimeters. The crib should be free of anything that might help your little one climb out. It's important that the mattress fits soundly in the crib. Create a secure area around the crib by placing it away from any windows, heating systems, lights, and cables. Keep any furniture that your child can climb on away from the crib. Don't put any cushions, paddings, quilts, or playthings inside the crib. They might make the crib look cozy, but they increase your infant's risk of SIDS. Invest in a thermostat to help you monitor the temperature of the nursery. Don't place the crib near a radiator, heating system, or in direct sunlight. If your little one is too warm, their risk of SIDS increases.