Are you starting to prepare the nursery for the arrival of you little one? Award-winning designer, Moya Farrell, offers her expert advice on how to create an amazing nursery for your little bundle of joy:
Paint the Ceiling
Painting the ceiling in your nursery a calming, peaceful color will give the room a totally different feel. Your little one will spend a lot of their time looking up at the ceiling, so why not give them something they'll enjoy looking at? If you're feeling extra creative, consider painting a mural on the ceiling; this will entertain them for hours on end!
Comfortable Seating
Creating an area that's dedicated to feeding, reading books, and snuggling with your little one is extremely important for your nursery! Find a rocking chair, or glider, that you absolutely love, and place it in the nursery. Keep in mind when picking out your chair to find one that lets you put your feet up. If you already have a chair, and it doesn't have a foot rest, invest in an ottoman with hidden storage!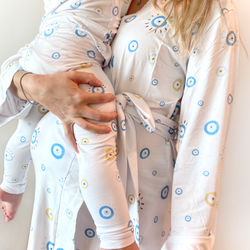 Changing Area Fun
Changing areas should be practical, and have enough storage space for diapers, wipes, and anything else you might need. That being said, you can still make this area a fun space for your baby. Hang some pictures above the changing table that they can look at while they're being changed. For example, put up a poster of the alphabet, and practice their letters with them; this will make diaper changes more fun for the both of you!
Blanket Ladder
Blanket ladders are a chic, space saving way to store all of the blankets in your nursery. Place your blanket ladder next to the comfy chair in their nursery for easy access to all of the soft and blankets you might need when you're snuggling with your little one.
Storage
Let's face it, babies accumulate a lot of stuff, so storage space is vital. If there's a built-in closet in their nursery, use this to store all of their clothes; just try and keep it organized! Cabinets also work well to store things like clothes, books, and toys. If you still feel like you don't have enough storage space, mount a few shelves on the walls!
Laundry Hamper
When your little one arrives, they'll go through a lot of clothes each day. Between spitting up and diaper blow outs, there will be lots of laundry to do. It might sound silly but investing in a laundry hamper that you love will make the task of laundry seem a little less daunting!
Less is More
It sounds cliché, but less truly is more when it comes to your baby's nursery. Things can start to pile up quickly in their nursery, making it feel cluttered and dirty. Try and keep it as simple as possible when it comes to decorating their nursery; find a few pieces that you love and stick with them. Their nursery should be a quiet, peaceful place for you and your little one to relax.