Creating a nursery for your new baby can be an enjoyable and satisfying experience. At times though, it can seem overwhelming, especially if you don't know where to start. Take a minute to read these dos and don'ts when it comes to designing your nursery.
DO:
Choose a Specific Style or Theme
Although it's not necessary to stick to one specific style, deciding on a general theme will make it easier to develop a more natural style for the nursery. This will make searching for any items or décor simple.
Choose Textiles Before Paint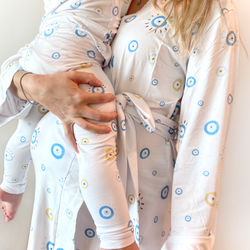 There is nothing worse than finding your dream curtains, or bedding, just to realize the colors don't match the walls. Before you choose the color that you want to paint the walls, pick out the textiles you love for your curtains and bedding.
Identify a Focal Point
The majority of nurseries are fixated on the crib, but there are many things to choose from for your main focal point. A beautiful window, an over-sized stuffed animal, or an antique cabinet can serve as a wonderful focal point for your nursery.
Decorate the Ceiling
An infant spends a lot of time hanging out on their back. Why not give them something they'll love looking at? Painting the ceiling a calming color, putting up stickers, or painting a mural on the ceiling are all great options. This will give your little one some additional entertainment!
Consider Going Green
Creating an environmentally friendly nursery isn't just great for our world, it's great for your baby! The items that we use every day are littered with unpleasant chemicals. These chemicals, referred to as VOCs, dissipate gradually, jeopardizing the air quality as they vaporize. They also might make your little one sick. Consider purchasing eco-friendly diapers, wipes, and toys!
Create a Nursing Station
Nursing can be a challenging journey and balancing act if you aren't prepared. Dedicating an area for nursing will not only make it more enjoyable, it'll help it go a lot smoother. Create a comfortable area, with everything you need, that both you and your little one will love spending time in.
Create a Sanitation Station
Keep your nursery germ-free by having cleaning products at the ready. Create a tray on your changing table equipped with hand sanitizer, multi-surface spray, and paper towels. You'll also need somewhere to place dirty diapers; a diaper genie is great for this. It provides a smell-free way to dispose of dirty diapers.
Develop a System for Sorting and Storing Clothes
Keeping up with your baby's ever-changing wardrobe is a battle at times. Start by arranging your little one's garments by size. Load the wardrobe and cabinets with the things you can use when your little one is born and store the rest until you need them.
Install a Ceiling Fan
Preventing SIDS could be as easy as a flick of a switch. A research study released by The Archives of Pediatrics reported that infants who sleep under a ceiling fan reduce their risk of SIDS by 72%. Investing in a ceiling fan not only keeps the room cool, it can keep your baby safe.
Leave Room to Grow
When picking the furnishings for your nursery, think long-term. The crib may look lovely now, but you need to leave enough room for a toddler-sized bed later on. No space for both a changing table and a cabinet? You'll get more use out of the cabinet in the long-run. Planning ahead will guarantee that you get the most out of your money and space.
DON'T:
Neglect Your Windows
Effectively covering your windows is extremely important for your nursery. Choose stylish, light blocking curtains, or blackout shades, that go with the style of the nursery. These will help your baby sleep longer and make nap time easier. They will keep the nursery cool throughout the day, which will drastically reduce your baby's risk of SIDS.
Forget the Nightlight
Nightlights provide security and convenience, especially during late-night feedings. They add a charming touch to your nursery and will be a feature of the room for years to come.
Wait to Baby-Proof the Nursery
Your baby might not be here yet, but before you realize it, your little one will be here and starting to explore! Be sure to cover electrical outlets and dedicate a safe place for storing any cables. Secure any rugs and potentially dangerous furniture to the floor. Identify all choking hazards, and make sure that all medications, lotions, and so on are safely stored out of your baby's reach.
Forget to Stock Necessities
Stock up on diapers, wipes, creams, and lotions well in advance of your baby's arrival. Don't forget to find a safe and secure place to store them! Keep in mind to store these items within arm's reach. Doing so will allow you to avoid having to put your baby down and get up to grab something.
Wait Until the Last Minute
Try and get started on your nursery early. This will allow any brand-new furniture or freshly painted walls to have a chance to air out. Getting an early start on your baby's nursery will help soothe any anxiety you may have and guarantee that you will have plenty of time to get everything done!