With your little guy on the way, designing a nursery from the ground up might seem like a daunting task. Never fear! Here are 6 imaginative baby boy nursery themes that will help inspire you when you're designing his nursery:
Modern Rustic
A modern rustic themed nursery will create a natural and contemporary space for your little guy. If you're drawn to a rustic style, but also want to keep it modern, this is the perfect nursery style for you. The crib will be one of the main pieces in the room that will allow you to incorporate this style into his nursery; find a beautiful, rustic crib that you love. To ensure you keep things modern in the room, keep decorations minimal.
Classic
There's nothing wrong with keeping it classic when it comes to designing your baby boy's nursery! White, paired with soft, neutral shades (yellow, grey, green) will provide a wonderful, classic style in his nursery. Keep in mind to use soft, relaxing shades for any bedding, décor and furniture; this will allow to room to look open and peaceful.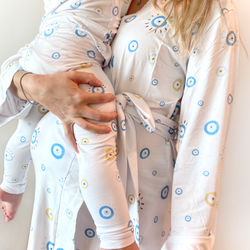 Modern Coastal
A modern coastal style nursery is great choice for you little guy's nursery! Intense navy blues paired with bright whites will allow you create the perfect modern coastal themed nursery. Consider painting the walls a white shade and adding deep blue accent pieces in the room. Red stripes and anchors are also a great way to incorporate this style into his room.
Mid-Century Modern
Mid-century modern is a trendy and stylish way to decorate your little guy's nursery! If you do go this route, keep things minimal when decorating and incorporate beautiful wooden pieces. There are many mid-century modern style cribs and chairs available for you to choose from! You'll love spending time in his cozy, chic room.
Classic Coastal
If you love the idea of a coastal themed nursery for your little guy but prefer to keep things classic, a traditional coastal style nursery is the perfect fit for you! Similar to a modern coastal themed nursery, the main colors you want to use when designing the room are blue and white; pick out some soft, aquatic blues and integrate these into the room! A painting of a lighthouse hung above his crib will add the perfect touch to his classic coastal nursery.
Woodland
If coastal isn't really your style, but you love nature themes, a woodland style nursery is a great fit for you. Acquiring dark, wooden furniture pieces and pillows that have trees/leaves on them is a great way to incorporate this style into your little guy's room. If you're feeling really creative, paint a mural of a forest on one of the walls in his room; otherwise, pick out some woodland styled wall paper or wall decals. There are so many fun ways to create the perfect woodland themed nursery for your little guy.