Designing the perfect nursery for one little bundle of joy can seem a bit overwhelming, add another one to the mix? Oh my! You might be feeling stressed starting to get ready for your little ones; don't worry! Whether you're having opposite or same-sexed twins, designing the perfect nursery for them can be easy. Take a look these 5 twin nursery themes below:
Neutral & Chic
A neutral themed nursery is a wonderful option for your twins, especially if they're opposite sexes. Yellow is a great and neutral color for their nursery that will make the room look soft and relaxing. Whatever neutral shade you choose for their nursery, make sure to have fun with it! When they get older, they can add some of their own decorations that they love.
Pops of Color
If you like the idea of a neutral themed nursery, but are craving a bit more color, paint the ceiling a bright color! This will allow the nursery to have a wonderful pop of color. A bright, sunrise orange is a great choice for the ceiling; it's gender-neutral and beautiful. If you aren't feeling up to the task of painting your ceiling, add a pop of color by getting a brightly colored rug!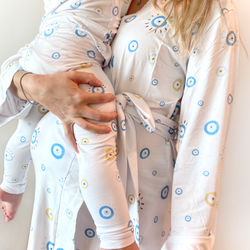 Floral
If you're having twin girls, consider going with a floral themed nursery. This is a wonderful way to create a darling, feminine look for your little girls' nursery! Consider buying two different sets of floral bedding for their cribs; this will give both of them a bit of their own identity. There are so many fun ways that you can incorporate floral patterns into their room!
Vintage
You can't go wrong when it comes to a vintage themed nursery! Whatever gender your twins may be, going vintage with their nursery is a wonderful option. Search for two vintage looking cribs; this will be a great way to give their nursery a vintage feel. Find some antique décor you love that you can hang on the walls! This is a great way to have fun and get creative while decorating their nursery.
Boho-Chic
Do you love the modern boho-chic look? Incorporate this style into your twins' nursery; it can be very gender neutral, making it a great option for their room. Use white and earthy colors to give the room a boho-chic feel. Wicker baskets are also a great way to integrate this theme into their nursery; and they'll provide some additional storage!