Designing your baby's nursery can be one of the most exciting ways to prepare for your little bundle of joy! That being said, it can cost a lot of money. It's important to keep in mind that for the first few months of their lives, your little one will spend a lot of time in your bedroom. This will give you extra time to design the perfect nursery, on a budget. Here are some money saving tips that you'll love:
Upcycle
You might have some items laying around your home that could be wonderful additions to your nursery! That old cabinet you have sitting in your garage? With a little paint, and creativity, this could be wonderful storage in your nursery. Finding gently used items online is an affordable way to decorate your nursery. It's important to always see the potential in something; it may not be pretty now, but once you give it some love, it will be a beautiful piece in your nursery!
Do Some Digging
If you find an item online that you absolutely love, make sure to do some digging before buying it. There might be a different website that has that exact same item, for a much better price. Utilize selling apps and websites, like Letgo, to search for your item. It might take a bit of time, but overall, will save you a lot of money. Who knows, you might find some amazing items along the way!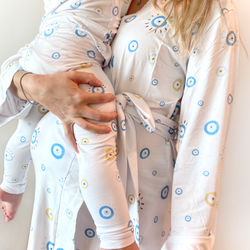 DIY
If you're feeling creative, you can make some of your own stuff! Many sites, like Pinterest, are a wonderful resource when it comes to DIY projects for your nursery. This can be a fun and inexpensive way to make some great things for your baby's room. You'll feel proud of what you can accomplish, and make memories doing so. When your baby gets older, you can tell them stories about the things you made for their room!
Use Family Photos
What better way to decorate your nursery than by using family photos? This is an extremely inexpensive and personal way to make your baby's room look amazing. Pick out a few of your favorite photos, frame them, and hang them on the walls! When your baby arrives, you can point at the pictures and tell them who's in each photo. They will love looking at the pictures and someday they'll be able to say who's in each one!
Think Outside the Nursery
Just because something isn't advertised as being for a nursery, doesn't mean it won't be a great addition in your baby's room! A lot of things might cost more because they are specifically made for a nursery. There are many affordable chairs, that aren't specifically for nurseries, that could fit your space perfectly. Found a cheap desk that you love? Convert it into a changing table! All it takes is a bit of imagination.