Your baby girl's room will certainly be the first area she declares her own. If you're struggling to design the perfect nursery for her, don't worry! Here's a list of 10 baby girl nursery design ideas that will help you create the perfect space for her:
Classic Pink
Pink is a traditional and classic color for your baby girl's nursery. White colored furniture, and accent pieces, go beautifully with pink! If you're sick of all the soft pinks, try a different shade, like fuchsia or flamingo for a bold look. There are so many different pinks available; you'll find one that's the perfect fit for her nursery!
Pastels
Pastel colors in nurseries provide a very calming and relaxed feel. Whether you prefer pink, yellow, or maybe even green, using pastel shades in her nursery will look amazing! There are so many different ways that you can incorporate pastels into her nursery: bedding, pillows, blankets, etc…! For some added comfort, add a pastel colored rug to her nursery. This will be a wonderful addition to her room and will keep her a bit safer when she starts crawling.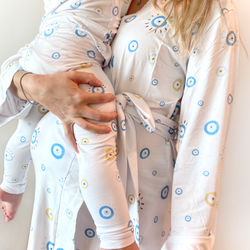 Bright Colors
Do you prefer bold, beautiful and bright colors? Consider incorporating bright pinks, yellows and oranges into her nursery. There are many different color combinations to choose from when it comes to bold colors. Painting the walls, a soft color, like white or grey, will allow you to go crazy when it comes to all of your brightly colored decorations!
Floral
You can't go wrong with a floral themed nursery for your baby girl! Whether you find floral wallpaper that you love or put up pictures of flowers, the possibilities are endless when it comes to incorporating floral patterns into her nursery. A beautiful, white crib with soft, floral bedding can give the space an elegant look.
Natural & Rustic
Are you into a more natural look? Consider using earthy browns and greens when decorating her nursery. If you're feeling extra creative, you could paint a mural of a forest on one of her walls! Her crib is also a great opportunity for adding a natural touch to the room.
Elegant White
White is a wonderful option for your baby girl's nursery. A gorgeous white crib and changing table, paired with some fun, bright colors is a great way to embellish her nursery. White has the ability to open up a space, while making it look peaceful and clean. If you choose to go with white for her nursery, you'll have a lot of freedom when decorating; everything goes well with white!
Polka Dots
A polka dot pattern on the walls of your baby girl's nursery will give the room a fun, funky feel! Pink and white polka dots is a classic, wonderful option, but, if you're feeling extra spunky, mix it up and go with yellow and pink! Whatever color combination you choose, there are so many ways to be creative with polka dots. If polka dot walls aren't your style, try and find some decorations you love that have polka dots: blankets, pictures, pillows, rugs, and so much more!
Elephants!
Are you an animal lover that wants to pass down your love of animals to your little one? Go with an elephant theme for your baby girl's nursery! Paint a mural or hang up some pictures of elephants on the walls. Adding a touch of pink will complement the grey tones of the elephants splendidly.
Animals
Going with an animal theme for your little girl's nursery is a great way to help her start connecting with nature. Hang up some pictures of your favorite animals and start teaching her what each animal is. This will be so exciting when she can start saying the names and making the sounds of each animal!
Hello Kitty
Who doesn't love Hello Kitty? This little cat is beloved by many little girls around the world. There are so many products out there that will help you make the perfect Hello Kitty themed nursery. Painting the walls, a soft white, and adding some Hello Kitty stuffed animals and blankets is a great way to design her nursery. She will love her room for many years to come!